I am so not gonna take the credit for blogging efforts that come from Caveman a.k.a Augustine!im definitely not as descriptive and humourous as this guy here!Dude,I think you've opened quite a few eyes because people dont know your command of english is this good. prolly cos u are always listening to 933fm and speaks mandarin all the time.ive been helping to do all the advertising but i aint no blogger here!i have constantly been stealing texts from this blog for announcements and stuffs,thats why everyone thinks im the one who'd updated this site everytime they receive updates.Caveman pls keep up with your interesting posts and blog more!!!!haha, i really had to do this because other than the guys in the shop everyone else thinks ive been doing your job.Give some credit to him guys, since he's the one who's been contributing all these interesting entries despite his jampacked appointments.
We ♥ You, WeiBin!
And since this'll be my first and last time blogging here, i'd like to contribute the Cutest Picture of The Year.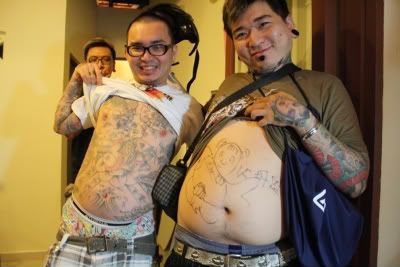 CUTE OR WHAT!?This picture makes me smile!
♥,
Elise
P.S. Ive added pictures to "Guest in the Shop!!!"